NoTube History: How A Small Team Of Dedicated Professionals Changed Tube Dependency Forever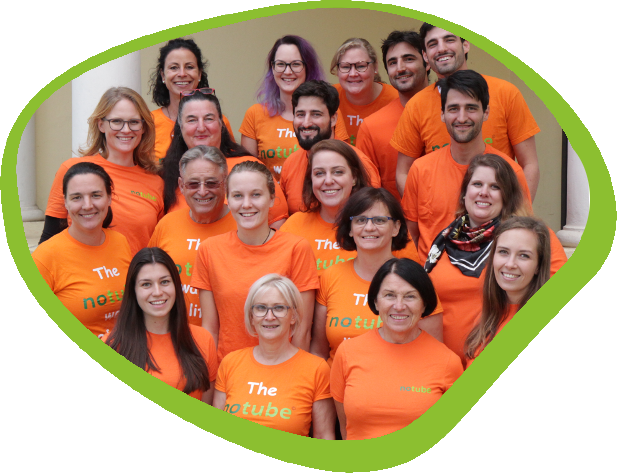 A little more than 30 years ago, we, a group of psychotherapeutically trained pediatricians at the Medical University Hospital in Graz, Austria, became interested in the interaction and dependence between externally regulated tube feeding and the growing need for young children recovering from intensive care to self-regulate their appetites and intake of food. Tube feeding is a rigid calculation of nutrients, techniques, quantities, and feeding times that a child can perceive as forceful and violent. At the same time, the natural eating development of children, including children with special needs, is difficult to integrate in a hospital routine. Remaining within predictable, institution-controlled boundaries encourages the development of tube dependence, and children often lose or never learn in the first place how to eat on their own. Thus, it is easy for tube-fed child and their caregivers to find themselves tube-dependent — trapped into the tube feeding cycle for no apparent reason. This problem set in motion our passion for change. Here is our story: how a small, dedicated team birthed the NoTube approach — a proven solution for an unrecognized problem.
The Early Years
In 1985, we became involved in pediatric psychosomatics and wanted to reintroduce psychoanalysis to Austrian medicine for the first time since World War II. As an Israeli-born pediatrician trained in Adlerian psychology (Peter) and a U.S.-born pediatrician trained in Gestalt therapy (Marguerite), we contacted the World Association for Infant Mental Health and Allied Professions (WAIPAD), which later became the World Association of Infant Mental Health (WAIMH). In the early 1990's, we were task force members for the National Center for Clinical Infant Programs (NCCIP) in Washington, D.C., and responsible for the German translation of DC 0-3. In 1993, we held the first Middle European conference in Graz, where we hosted notable experts including Bob Emde, Joy Osofsky, Serge Lebovici, and his pupils Bertrand Golse and Antoine Guedeney.
At the same time, we changed the target population of the pediatric-psychosomatic unit at the Medical University Children's Hospital in Graz. Our unit, which dealt mainly with adolescents, began dealing with the issues, concerns, and treatment of children under age 3. In the beginning, we dealt with sleep disturbances, fussy babies, eating and nurturing problems. Over time, our patients' setbacks became more challenging; prematurely born babies after NICU treatment; children with developmental delays and special needs; children with inborn and genetic diseases; and pediatric patients after transplantations and chemotherapy all shared common nutritional problems.
A Pattern Emerges
Parents of the first infants referred specifically for tube dependency in the late 1980's mentioned unintended side effects, like vomiting, crying, retching, and gagging; on closer view, we learned just how complex issues of partial and exclusive enteral nutritional support were, especially when the efforts weren't rewarded with sufficient weight gain and growth. Our first patients showed us the right way by taking their nasogastric tube out by themselves, and we were lucky and courageous enough to try to feed them without it.
Soon after, a Specialized Eating Disorder Unit (SEDU) was developed and equipped according to the guidelines of the British Medical Society, to which Dr. Scheer belonged. Interaction-guided feeding therapy was introduced and evaluated, and the Early Autonomy Training (EAT) concept — where the child takes the lead, and the goal of all therapeutic work is aimed at increasing the child's own abilities and self confidence, especially after traumatic experiences during prior intensive care medicine — was published and enacted. From this point on, our model became that, at all times, the child would decide what and how much they will (or will not) eat and drink. The child shows us the way, and we support their path by guiding posture, counseling parents, and staying in contact with pediatricians and other specialists.
Medicine Meets The Modern World
Suddenly, in the fall of 1999, with the evolution of email, more and more parents from across the world started seeking help for their tube fed children via the internet. Dr. Dunitz-Scheer was initially happy to spend long nights answering emails, but as numbers of desperate parents with "unweanable" children grew, she asked them to come to Graz which many did. However, in the years thereafter, with the evolution of the internet and telemedicine, it became clear that these were effective and safe means to treat patients also without them coming to Austria. As a mother of six children and an administrator of a hospital ward, it became too much to take on a "second job" as an online coach in the evenings. It was time for Dr. Dunitz-Scheer to turn her email advising into a system that could change lives around the globe.
In 2009, Dr. Dunitz-Scheer enlisted the help of a medical student and created a sophisticated web platform, answering "tickets" for parents, introducing an assessment procedure, and sending recommendations. In time, the pair grew into a team, and an ever more sophisticated, internet-based tool for online weaning by Netcoaching was developed to help more children and families.
In 2012, we introduced Learn To Eat, an aftercare tool that helps families and caregivers whose children don't show age-appropriate feeding routines within one month of ending tube feeding. We offer Learn To Eat at low cost, on a monthly basis for as long as the family needs it.
Our latest addition are the two week Eating School courses for children suffering from tube dependence or other severe early feeding and eating disorders and their families. We host these intensives in Israel, France, Germany, and Austria, and in 2015, we'll be introducing a course in Holland.
Since we began, more than 300 patients from 35 countries have been weaned from tubes at a success rate of than 90.5 percent. In June 2014, a scientific paper comparing a large group of onsite vs. online tube weanings in a consecutive 5-year period found that NoTube's online treatment program is even more powerful as the onsite treatment approach (including both in- and outpatient programs). This study confirmed what we've believed for three decades: making tube weaning possible for families in the setting that suits them is the best method for success.
In 30 years, we've made many adjustments, pioneered many innovations, and continued to evolve:

In hospital-based tube weaning courses, we explain to nurses and physicians how they should support parents in changing their feeding habits, but not show them that they are better or more experienced;
In our web-based counseling at NoTube, we've built an interdisciplinary team consisting of IT specialists, psychologists, music therapists, physiotherapists and three physicians to help guide parents with children with feeding disorders for as long as they need it.

As we look back, we're proud of the team we've developed in the last three decades. Moreover, we're proud of the research we've done to bring the fascinating worlds of externally regulated tube feeding routines, high-tech medicine, and tube-fed children and their families together to help with the transition toward oral feeding. We look forward to the future as we continue to research new perspectives in nutrition, psychology, posture, and parent-sibling interaction.