Hugo is a "picky eater" and, prior to treatment, ate fewer than 5 different foods. During treatment, Hugo learned to try new foods and to overcome his fears.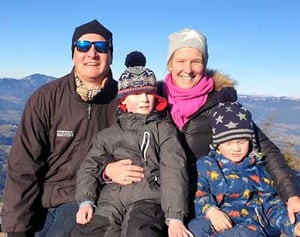 Hugo lives with his family in Germany. He is a "picky eater" and, prior to treatment, ate fewer than 5 different foods. Hugo had already undergone several therapies in his country before coming to NoTube. In August of 2020, when he was 5 years old, Hugo and his entire family participated in an Eating School in Graz.
While there, Hugo learned to try new foods and to overcome his fears. His parents, too, were able to take a lot with them to help them better support their son. Today, Hugo has significantly broadened the variety of foods he will eat, and the feeding situation is much more relaxed. Hugo is proud and loves to think back on the time spent in Graz!

Hugo´s parents say: We were at the NoTube Eating School in Graz with our son, Hugo, (5.5-years-old) for two weeks in January 2020. Prior to this, eating was extremely difficult for our son. From early infancy, he refused solid foods altogether, and only through extensive therapies at the Werner Otto Institute in Hamburg, did he slowly learn about eating (putting food into his mouth and chewing) solid foods. Despite these efforts, in January of 2020, our son's food choices were still extremely restricted. He only ate one specific bread dependably and happily. Beyond that, he liked donuts, waffles, and soft pretzel sticks and would drink fruit juices, and water.
Since our son was going to start school in August of 2020 and had no other issues beyond eating, we decided to spend our family vacation in Graz that year to try something new. We wanted to be sure we had tried everything.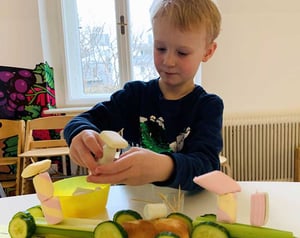 In Graz, we were in the Eating School with 9 other children and their families. Participants came from all parts of the world (New Zealand, Japan, France, India, USA…). In our group, there were 3 children being tube weaned and 7 children (in a variety of ages around 2-4, our son was the oldest participant) with eating difficulties similar to Hugo's.
The first days in Graz were dedicated to intake and evaluation. Where is our child at, what can he do…? The remainder of the Eating School, we worked together with the NoTube team to implement the treatment strategy. The team had an unbelievable amount of experience, and it felt good to finally entrust ourselves to helping hands that brought so much knowledge.
The outcome was so individual, as were all of the children and families who were there. Each person was really met where they were, and everyone received individualized recommendations. Nothing learned there can be applied 1:1 to a different child.
All we can say is that we learned a great deal. We got a lot out of it!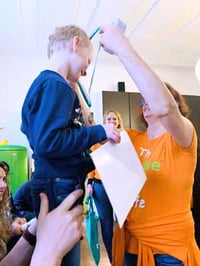 The time we spent in Graz – our children are still talking about it – put our son on a track that we would never have thought possible. We not yet come to the end of our journey, but since January of 2020, we are on a good path. It is unbelievable!
Our son now accepts 1-2 new foods per week. He is happy; he keeps weight on; and his special bread, the one that he ate at every meal, stayed behind in Graz. Today (6 weeks after the course), our son eats rice pudding and all the other puddings, cream of wheat, pizza (sometimes even with tomato sauce and cheese), chips, all forms of noodles (even colourful noodles!), gnocchi (those made with potatoes), potato puree (he doesn't love it, but he eats it), fruit pouches, a variety of nuts and seeds, cakes, candy (previously only Kinder chocolate), honey, etc. He also drinks milk, juices, smoothies and cocoa…
We are definitely a long way from the end of our learning curve. But, he is signed up for lunch at preschool and always manages to find something in the food provided that is agreeable to him.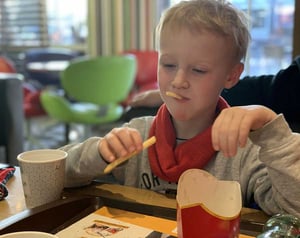 We rearranged things at home to better support him in his learning. It is not always easy (either for him or for us), but he is so unbelievably proud when he has another success. He is thrilled when he accomplishes something that even he had not thought possible, for example, when he polishes his portion off before his little brother does.
For us, Graz was definitely worth it!
Do you have any questions? Please contact us!