Testimonial-Muna
Muna entered the world a few weeks early. Because of a tumour at the base of her tongue and a trachea tube, which complicated her intake of food, she was tube fed from the time she was born. At the beginning of Netcoaching, she was receiving nearly all of her nutrition via a PEG tube.
Right from the start, Muna made good progress and received food via her tube for the last time. A few weeks later, she was even receiving all of her fluids orally. Since the beginning of May 2020, Muna has been able to sustain herself fully orally and has made significant progress in speech, motor development, and independence. Her enjoyment in eating and drinking is palpable.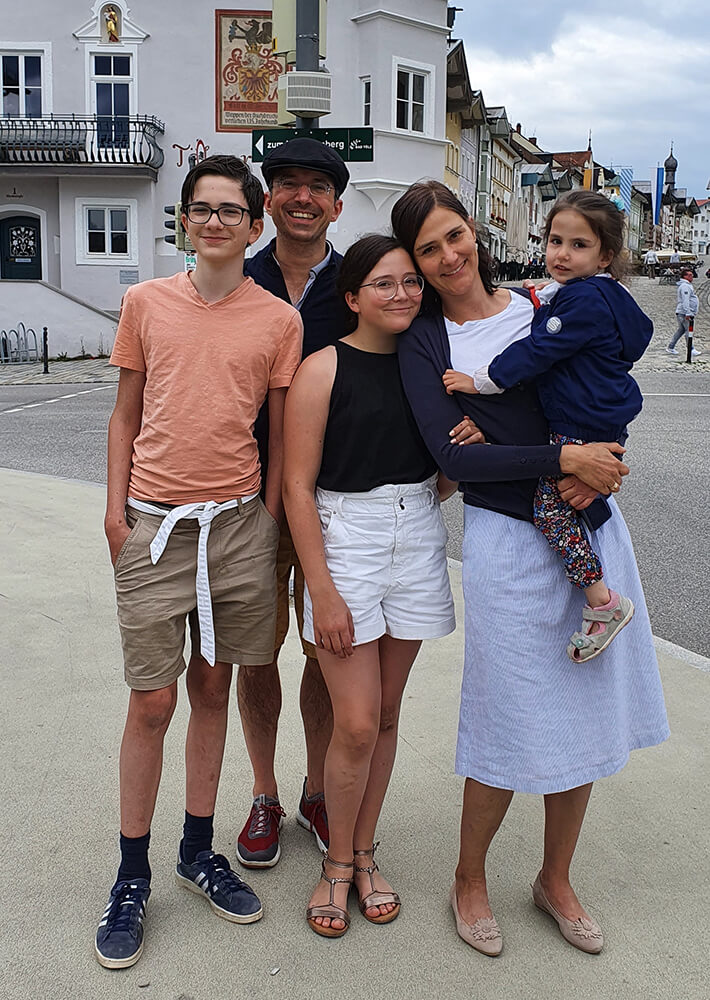 "Our daughter, Muna (April 2017) had been fed entirely via a feeding tube since birth. A tumour at the base of her tongue and the resulting surgery made it impossible for her as an infant to drink, and later to eat. From birth on, she had a tracheostomy tube that added to her difficulty in oral feeding. Because we were concerned about choking, we eventually stopped trying to feed her normal foods. Though, we did continue to offer her safe foods (that liquify quickly in the mouth). From the age of 1, she started eating infant teething cookies, chocolate, and ice cream in very small amounts, which never increased. In the winter, Muna experienced serious infections and recurring vomiting, which meant that eating orally was not a high priority for us. After Muna overcame another serious respiratory infection this year (2020), she made substantial strides in her development and began to show interest in eating. At this point, she showed that she could also eat solid foods (soft pretzels and bread) and we started to contemplate tube weaning. Then Corona came, along with the complete lockdown. My husband and I were at home and it became apparent to me that this, as cynical as it sounds, was the ideal moment for weaning, since we both had a great deal of extra free time imposed upon us.
We contacted NoTube immediately, as they offered tube weaning via Netcoaching, and only a few days later (!), we were able to get started. Looking back, the timing was perfect, because as parents, one needs a lot of strength, patience, and time for one's self. I can't imagine doing a tube weaning alongside regular work. Without the lockdown, we would both have had to take several weeks off.
The weaning started straight away, and from the perspective of parents who had been tube feeding for nearly 3 years, the reduction of tube feeds felt dramatic. In the first phase, communication with the NoTube team was particularly important. All of our questions, concerns, and fears were answered quickly via their mail system.
Nevertheless, as parents, we still experienced crises from time to time, and Muna was frequently whiny and restless. At the same time, she was also quickly beginning to eat. During this time, it was difficult to control ourselves to not constantly push her and offer her things. But her eating increased, slowly but consistently. What amazed us was that Muna was tasting new things (e.g. burger with mashed potatoes, pickles, raw onion) more often, and one could see how interested she was in the new tastes and how much she enjoyed eating normally with us. For us, those were joyful moments.
Over all, I would say that the first 2-3 weeks are the hardest: the child's weight loss (which is necessary), the uncertainty as to whether you are doing the right thing, the days on which the child seems to not touch a single thing. All of this can be hard on the nerves and stress both your partnership and the whole family. The ongoing consultation with NoTube was extremely important in helping us appreciate the complicated process of tube weaning. The food options were another source of uncertainty for us, and NoTube's advice was extremely helpful here as well.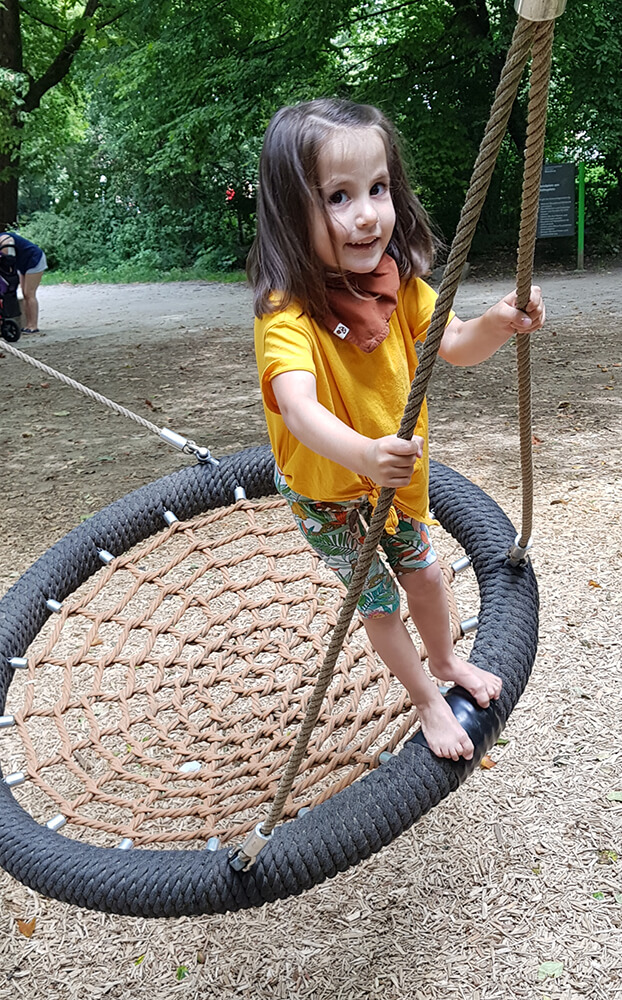 After Muna began eating, it went something like this: caloric intake was comprised primarily of sweets, ice cream, toast with lots of butter, cheese, and eggs. She also liked drinking Ovaltine. This is how the weight loss stopped. After those first challenging weeks, Muna was doing very well; she was physically active and made great progress developmentally (especially in her speech). Her oral-motor development, likewise, improved noticeably as she began to eat and as her oral intake increased.
For us as parents, it was amazing to see that she really could eat EVERYTHING. And because she never choked, little by little, we became calmer and more comfortable.
After 2-3 weeks she began to really enjoy eating pizza and donuts, and we were able to keep broadening her options with normal foods. On her third birthday, Muna accepted a piece of her birthday cake; that was a highlight for us.
6 weeks after beginning the tube wean, Muna was able to return to nursery school where she participated in lunch as a matter of course and ate well. Eating with the other children helped her become more a part of the group, and we had the feeling that she was very proud of that.
Eating situation today: We long ago stopped counting calories. Muna eats sustainably and without any problems. Her menu options are still somewhat special, and she usually eats smaller amounts but more frequently. She still loves to eat all forms of ice cream, chocolate, gummy bears, Pom-Bears, and cereal bars. Those remain our emergency options, especially when we are out and about. But she also eats bananas, apples, pizza, donuts, risotto, and many more. She loves milk, cocoa, and to some extent even her tube feeding formula. Sometimes, she starts with ice cream and then moves on to the "normal" foods. That is okay with us.
Drinking is a bigger issue, and we think she only manages to get the minimum of what she requires.
Because Muna has at least one major surgery ahead of her and we are afraid of the winter flu season with the trach, we have not yet removed the tube. She has a button that is otherwise unobtrusive.
After the tube wean, Muna experienced extreme constipation for nearly 3 months, so we gave her Movicol and sometimes fluids (during the summer heat) via the button. Since the situation normalized, Muna no longer needs diapers during the day. Now that the very hot period is over, we will begin to reduce the Movicol and the fluids a little bit at a time.
The tracheal secretion that has to be drained from the tube has decreased substantially in the absence of infection. We often don't need to use the suctioning device at all during the day (she coughs much of it up on her own).
Since the weaning, Muna is very slim. We still monitor her weight about every 3-4 weeks since she once fell under our weight limit while also having a growth spurt. Her weight has stabilized again, and she is very active and energetic. We have the feeling that her current slender appearance is her natural figure.
In summary, I can say that the tube weaning went much faster than we had dared to hope. We trusted the guidance of the NoTube team 100% and were very consistent in implementing their advice. Our life changed from that moment on, and without the syringes and enteral feedings, it has gone a long way toward normalizing. Muna still has the trach, but we have come to realize that the enteral feeding and not eating were much more restrictive than managing the tracheal tube.
With Muna eating now, we are much more mobile. We have begun to take vacations as a family, without any nursing services; that was a great leap for us. Going from fully tube-fed to tube weaned was an immense transition, even so it was a positive experience. It was a hard-won success for us as parents, but it was absolutely worth it, especially for Muna!"